1. CSV Export
You can export your training sessions as CSV (Comma Seperated Values) to include them into your applications and training plans on your computer for further evaluation.
1.1 Export all sessions
Using the download icon in the status bar of the historical screen, you can export all training sessions.
1.2 Export single sessions
Using the download icon in the status bar of the detailed screen, you can export single training sessions.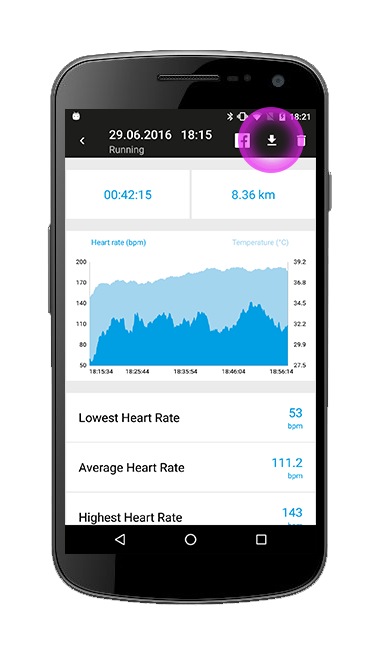 2. Download sessions
2.1 Android
Data is exported into your existing folder structure in the path: Cosinuss > CosinussOne > session.csv.
From there, you can dwonload your data on your computer.
send them to you via an email attachment
send them to you via Bluetooth connection
connect your smartphone via USB to your computer as an external data medium
2.1 iOS
Your data is added to iTunes Filesharing. Confirm this notification in your app with 'ok'.
Connect your iPhone to your computer and open iTunes.
In iTunes, select your iPhone as device.
Go to apps then. Scroll down and in 'file share' you can find the applications, which can share files with your computer.
Select the Cosinuss °One app. Then you can see in the window next to it all your files you can download. Choose the required training session you added to file share before.
Go to 'save under'. You can choose the filing location for your CSV file now and save it.